Gyeonggi Foreigner Problem?
Hosts
Emma Kalka
Joe McPherson
NOTES
Administrative Order for Corona 19 Diagnosis Test for Foreign Workers and Employers with Foreigners
https://www.gg.go.kr/bbs/boardView.do?bIdx=18300979&bsIdx=464&bcIdx=519&menuId=1535&isManager=true&isCharge=true&page=1&fbclid=IwAR3FGEW2hJKjOnpr6K1E6S0BBs7buk-rUprosnmy92tpET-DIwD9wWAkFYc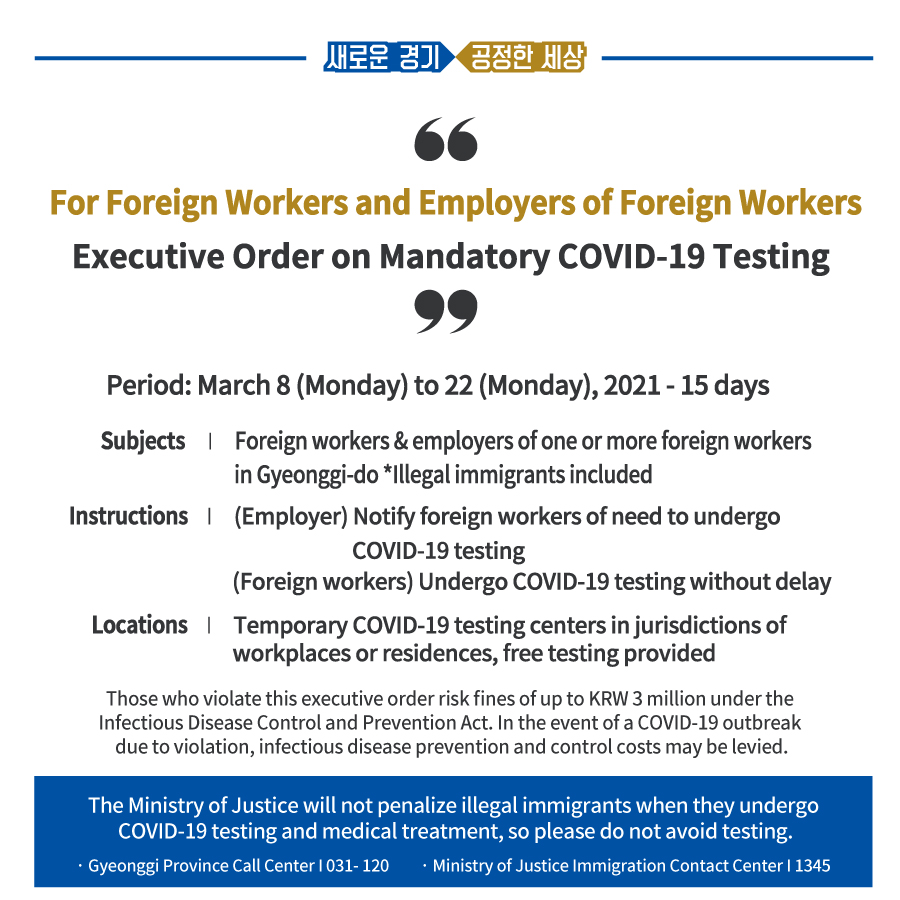 Background
COVID-19 clusters in factory dormitories in Namyangju
The Orders
The Problems
Haphazard communication

No clear lines if it's all foreigners or foreigners working in certain industries

Employers are responsible for communication, but workers bear brunt of punishment

Is this a public health strategy or a PR strategy?

A history of image before substance — Appear to do something without actually doing something — It's all for show

Are they also testing Korean workers at those facilities?

Are Korean family members of foreign workers required to be tested?

Gyeonggi's defense

They have tested Coupang centers and churches, too

Recent history of

oopsies

with foreigners this past year

Free masks campaign

Financial support campaign

Each time they were brought to task, they used the excuse that they weren't aware–that they didn't mean to do it. And now they've done it again!

The foreign community is uniquely sensitive to disease-related discrimination

AIDS requirement that went to the Human Rights Council

2009 H1N1 Swine Flu

News programs and articles about diseased foreigners

Itaewon in May
We wrap up Squid Game season one and dish out trivia, wild theories, and predictions for season two. Guest: Roboseyo Twitter: https://twitter.com/roboseyo https://youtu.be/0Xxvh-RjqzI --Please Follow-- Podcast: https://www.buzzsprout.com/960226 Twitter:...